I watched
Chocolat
last night.
Ok, I will be honest and I say I made judicious use of the fast-forward button and only watched the best bits.
~ The bit where Anouk comes home all upset and asks about going to church and says "Why can't you wear black shoes like all the other mothers?".
~ And when the cute old man, whose name I can't remember (they're difficult French names ok?), the one who owns Charlie the dog, is confessing to Pere Henri about his lustful thoughts for Madame Audel.
~ And Roux's first appearance, noodling around on his guitar and looking up with that lovely face.
~ Serge dressing up like he's joining the circus, to apologise, and Josephine firmly telling him it's over.
~ Everything about the party for Armande. Especially the food and the music.
~ "I'll come round sometime and get that squeak outta your door", with that LOOK on his face. I promise I didn't rewind that part 4 times to watch it over and over.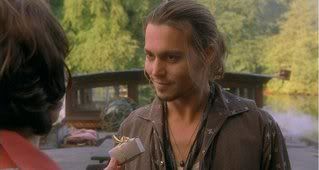 Okay, maybe I did.